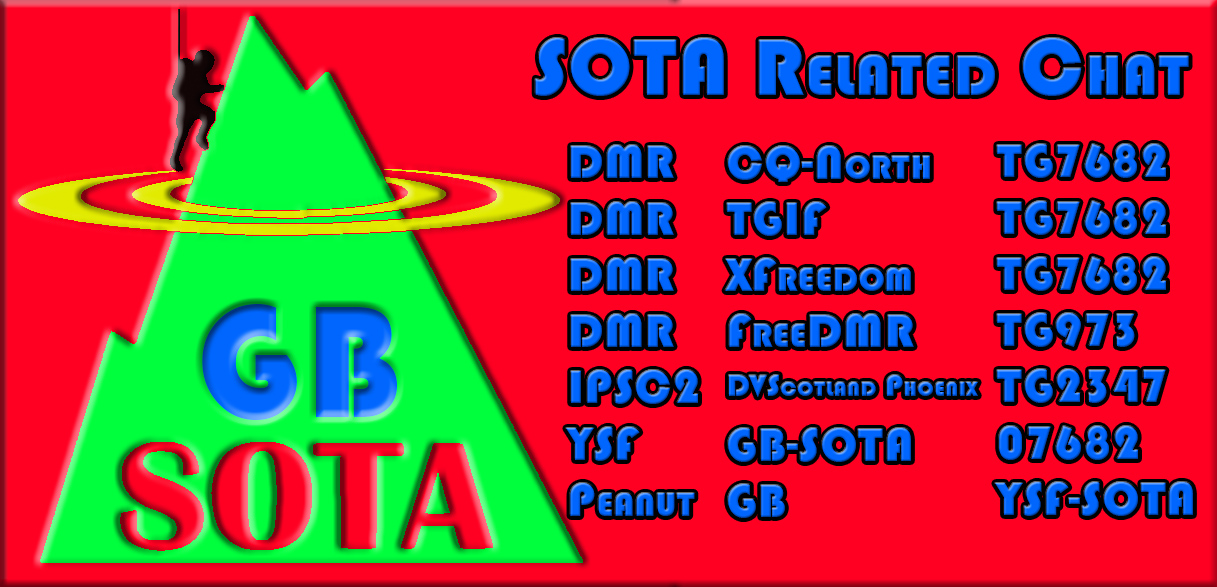 Welcome to the official website of GB-SOTA
GB-SOTA is a digital multi-platform space where people that are interested in SOTA (Summits On The Air) can come together and talk about SOTA related activities etc.
There are lots of interesting and helpful ideas planned on GB-SOTA, our aim is to promote and support SOTA and getting "out and about".
We are sure that you will want to take part, get involved and chat with other SOTA friends.
Please feel free to spread the word about GB-SOTA to all your friends.
The "SOTA Net"
Last Friday of every month at 19:30 UK Time
Come together to meet with of SOTA operators and aspiring SOTA operators to discuss a variety of topics.
We've got a wide variety of topics planned to suit all tastes including radio equipment, outdoor gear, best spots to SOTA and how to get more people involved in SOTA.
We've arranged experienced net controllers to bring a great feel to the net and it will be a time to kick back, relax and enjoy yourself.
See you at the "SOTA Net"
Ways to connect to GB-SOTA via the following methods
DMR - TG7682 (TGIF)
DMR - TG7682 (CQ North DMR - FD_GB_UK_CQ-NORTH)
DMR - TG7682 (Extended Freedom DMR - FD_GB_XFreedom_Net)
DMR - TG973 (FreeDMR)
IPSC2 - TG2347 (DV Scotland Phoenix - IPSC2-DVSPh-A / IPSC2-DVSPh-F / IPSC2-DVSPh-K)
YSF - GB-SOTA (07682)
Peanut - YSF-SOTA
We are always looking to add new ways to access GB-SOTA, so please let us know if there are any additional routes you may want.
Ways you can follow our Nets
If you want to see the check ins on a live net on the GB-SOTA Network you can either download a copy of NetLogger or you can view our NetLogger LIVE feed (no software required).